University Pathway Programme in Germany
Prepare for entry into a German university
Why study in Germany?
With its low living costs and part-time student work allowance, Germany is an excellent place for international students to study. Regardless of your nationality, Germany offers free-of-charge education at public universities and low-cost education at private universities, as well as an 18-month job-seeker visa upon graduation and many more attractive benefits for overseas students. 
---
How does it work?
Build your personalised path to a university education. We'll help you every step of the way, from building your language skills and getting your visa, to applying to university and adjusting to life in Germany. Take the first step towards your new future today.
01
Apply to our pathway programme with your existing academic qualifications from your home country
02
We'll provide you with your personalised study plan and help organise your arrival in Germany
03
Take your University Pathway programme at Alpadia
04
Start studying at a German university or Studienkolleg
Why choose our University Pathway programme?
Applying to university in a new country can be a daunting process, especially when you don't speak the language. We'll work closely with you at every stage of the application process, helping you build your German language skills and adjust to life in a different country. 
We'll help you integrate into German society—both out in the world and within an academic setting—by improving your language level and teaching you about the German way of life
Free-of-charge evaluation of your existing academic qualifications and a personalised study roadmap and timeline
Get expert assistance and advice throughout the university admission, visa application and university placement process
Prepare for university at one of two fantastic locations in Germany—avant-garde and urban Berlin or sunny and picturesque Freiburg
Student support at every stage, with transfers, accommodation and more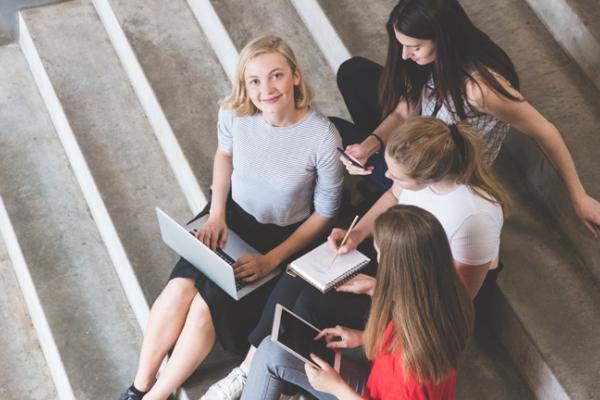 FAQ
Read our FAQs to find out more about how our University Pathway programme works. If your question isn't answered here, get in touch with your Alpadia study advisor.
How I can get into university in Germany?
Getting into university in Germany is easier than you think. These are the steps you need to take:
1. Do your research on the courses you're interested in
2. Make sure you meet all of the academic requirements
3. Take a German language course - if you don't already have an advanced level of German
4. Check the admission and tuition fees (most public universities in Germany are free)
5. Send your applications to your chosen universities
6. Apply for your student visa
7. Find your accommodation
If this seems like a complicated process, don't worry. Our University Pathway Programme will help you every step of the way.
Do I need to attend a Studienkolleg?
Our University Pathway programme will provide you with a free-of-charge evaluation of your academic background. If your diploma or academic qualifications are not accepted as equal to the German equivalent (usually the German Abitur), you will need to attend a Studienkolleg before entering university. Studienkollegs offer a preparation programme covering a variety of subjects, taught in German. The programme concludes with a final exam called Feststellungsprüfung (FSP) - you will need to pass this in order to apply directly to any German university.
What are the academic requirements for entering a Studienkolleg?
You need German proficiency of at least a B2 level for entering a public or private Studienkolleg. You will usually need to take an entry test too - there are a number of Studienkollegs in Germany and several entry tests can be taken at different Studienkollegs. We will help you with selecting the right Studienkolleg for your needs and arranging the entry tests. You will be able to take preparatory courses at Alpadia to make sure you pass the competitive entry tests of your preferred Studienkollegs.
What academic qualifications do I need to apply directly for bachelor's or master's programmes in Germany?
You will need an upper secondary school leaving certificate equivalent to the German Abitur and possibly an entrance exam. You will also need a C1 level of German proficiency for a bachelor's programmme, and a recognised bachelor's degree with above-average grades for entry to a master's programme.
What are the language requirements to enrol at a German university?
Usually you will need a German language proficiency of C1 level. At Alpadia, we'll prepare you for the official German language tests so you can enter university in Germany.
Do I need a visa to study in Germany?
EU applicants do not need a visa for the Academic Pathway Programme.
Non EU applicants: A study-applicant-visa will allow you to improve your German at Alpadia Berlin or Freiburg while you learn about the study options available to you in Germany. Once you've fulfilled the language requirements, you will be able to get a student visa without the need to go back to your home country.
You also might be interested in
Expand your career in Germany
If you are a professional with work experience looking to extend your career in Germany, our Career Pathway programme might be more suited for you